Welcome to Psychology Day - 2022

Our behalf of the psychology department, we would like to invite you to participate in our annual psychology day event. This day represents an opportunity to learn more about the research and internships our dedicate students and faculty are active in here at Texas State University and to get some practical real-world insight into career possibilities in this field! This event includes a virtual poster competition and two Zoom Webinar sessions (see schedule of events below).

Virtual Research Poster Competition
About this Competition: A poster session is a showcase of the work our undergraduate and graduate students are doing in the Department of Psychology. The work may include research conducted in labs with faculty, to undergraduate honors theses or graduate theses. Posters generally and selectively describe prior work on the topic, the current project's research questions and hypotheses, methods, results, and implications. This year, in response to the ongoing COVID-19 pandemic, the post session will be held in a virtual format. Students will still be able to create a poster describing their research and it will be uploaded to the psychology department website for public viewing.

Explore our Virtual Poster Competition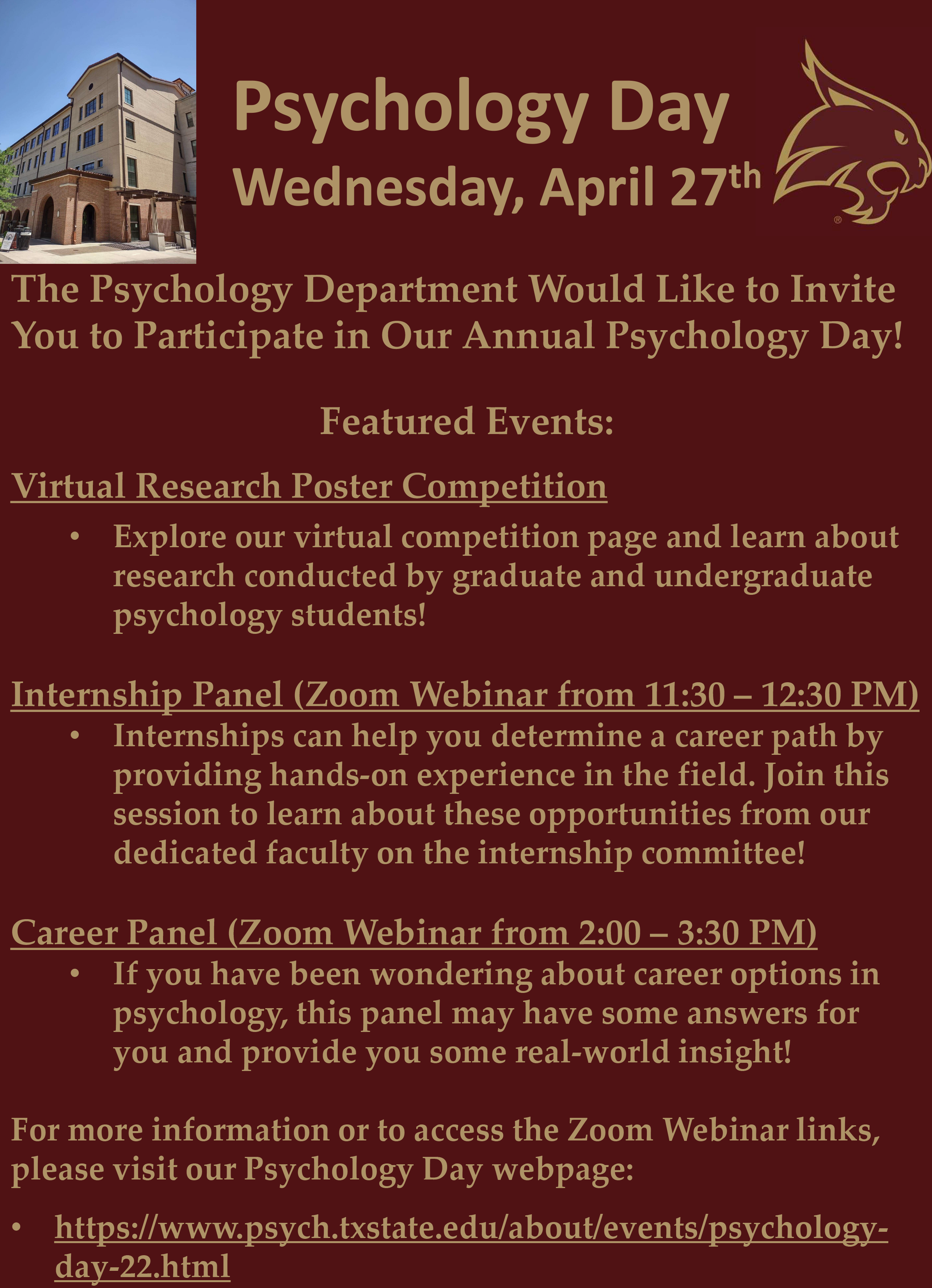 Internship Panel
Time: 11:30 - 12:30 PM on Wednesday, April 27th
Zoom Webinar Link: (This event has passed)
About the Panel: An internship can help you determine a career path by providing you with hands-on experience in the field. During this Zoom Webinar, the Psychology Department's Internship Committee will describe the benefits of an internship and the varied internship experiences available within the department. Please join Robyn Rogers, M.A., Azucena Mayberry, Ph.D., Ollie Seay, Ph.D., and Sarah Angulo, Ph.D., for this informative session.
Career Panel
Time: 2:00 - 3:30 PM on Wednesday, April 27th
Zoom Webinar Link: (This event has passed)

About This Panel: If you have been wondering about career options in psychology, this panel may have some answers for you. You will hear about the many options in psychology practice from Alfonso Mercado, Ph.D., President of the Texas Psychological Association, Associate Professor of Psychology at the University of Texas-Rio Grande Valley, and independent practitioner. Forensic Neuropsychologist, John Fabian, Psy.D., J.D., will discuss how he uses neuropsychological testing in his role as an expert witness in criminal trials. Rachel Medina, M.A., Executive Director of LiveOak Living Community will introduce you to the field of cognitive disabilities and how her organization supports individuals in their care.