The Department of Psychology has research space to support faculty research, as well as graduate students' research with their faculty mentors. These include individual labs as well as a teaching computer lab with 42 individual workstations, a centralized computer lab solely for data collection, a room for survey research, and state-of-the-art observation rooms.
The Department also has laboratories to cater to the needs of academic instruction and the administrative activities required to ensure the smooth operation of a large number of majors.
A list of labs, equipment, and lab websites is included below.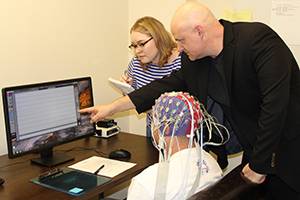 Computer Labs:
The Classroom Computer Lab, located in UAC 440, is a large classroom for teaching statistical analysis and research methods using actual software used in psychological research. The lab contains 33 Windows-based workstations with Microsoft Office, SPSS Statistical Software, and a classroom projection system. This lab is only open to scheduled classes.
The Data Entry Lab, located in the UAC 225, has seven Windows-based computers available for graduate students and other research assistants to enter and manage data collected from experiments. These machines are equipped with Microsoft Office, SPSS Statistical software, and specialized research software. This room is access controlled by a key card.
The Graduate Assistant Room, located in UAC 258, has 12 Windows-based workstations. These machines are solely for use by Psychology graduate students and the room is access-controlled by key card.
Faculty Lab and Research Websites